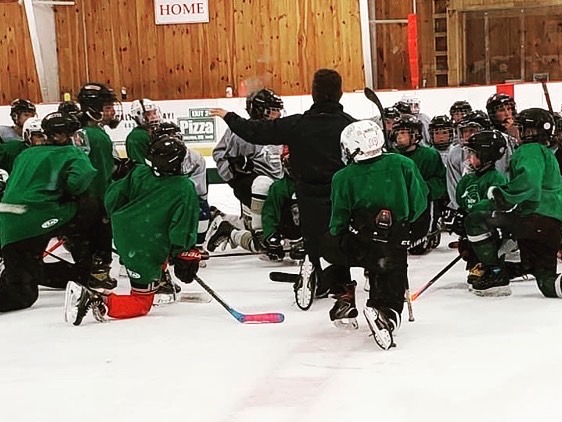 Andrew Trimble
Head Instructor
Scoring Concepts LLC is founded by Andrew Trimble, the Co- Owner & General Manager for the New England Wolves. In 2014-15 he guided the New England Wolves MJHL team to the most wins by a Laconia- based USA Hockey Junior team since the 2004-05 season, a second place divisional finish, playoff berth, and was a finalist for MJHL "Coach of the Year". His Wolves program followed that season up with a back to back playoff berth (first time in a decade for a Laconia JR franchise) as well as Coaching in the EHL Elite All Star Game (2016). In 2016-17, Trimble's teams set then re-set, the highest win totals by a USA Hockey Junior Program in Laconia in 12 years, as a result he was the Runner- Up for the EHL Elite Coach of the Year and his team recorded the first playoff wins in Wolves Franchise history, advancing to the Northern Conference finals. In 2018-19 Trimble was awarded the EHLP "Coach of the Year" honors, as he guided his team to the EHLP championship.
He came to the Wolves after a successful two year run at Kingswood Regional High School in Wolfeboro, NH, where in his first year with the program, his team's posted the first winning season in 9 years and followed that with the only back to back playoff appearances in over a decade. His success in the 2012-2013 season led to him being voted as the NHIAA DII Coach of the Year and Foster's Daily Democrat "Dream Team" Coach.
He comes from a three generation Hockey family: his grandfather, Dick Trimble, was employed by the NHL for over 25 years and won the 1990-91 John J. McMullen Award for service to New Jersey Ice Hockey and his father, Rick, has published 3 successful volumes of "The Ultimate Hockey Drill Book". Coach Trimble grew up playing in the Brick Hockey Club and ended his career at Manasquan High School as the program's all-time leading scorer, MVP of his conference, an All-Shore selection, All-Tournament for the 97′ Garden State Games, Manasquan HS Hall of Fame Award, and a selection to the 98′ NJ State Senior All-Star Game.
Andrew went on to play and serve as Assistant Captain for the Laconia Leafs Junior Hockey Team in Laconia, NH and NCAA Hockey for SUNY Buffalo State. He briefly played professionally for the NJ Spartans (CAHA). Certified Personal Trainer.

Previously he has coached at:
2014-Present- Co- Owner/ GM New England Wolves Jr. Hockey
2022 USJDP Hockey Camp Coach
April 2016- Present SAHA USA Hockey Evaluator
May 2016- On- Ice Coach & Evaluator USA Hockey Rocky Mountain District Select 17's
2013- 2020 Lakes Region Youth Hockey (NH) Skills Coach
2014- 2020 Rochester Youth Hockey (NH) Skills Coach
2012- 2017 Henniker Youth Hockey (NH) Skills Coach
2015-2018- Pro Ambitions Hockey Schools Coach
2012-2014- Head Varsity Hockey Coach at Kingswood Regional HS in Wolfeboro, NH
2013-2014- Head Coach New Hampshire Youth Monarchs PW Select (Seacoast League Champs) & Assistant Coach New Hampshire Junior Monarchs (MJHL)
2012-2013 – Assistant Coach Laconia Leafs Jr. Hockey (AJHL/ MJHL)
2009-2012 – Head Varsity Hockey Coach at Jonathan Dayton HS in Springfield, NJ
2010-2012 – Assistant General Manager/ Assistant Coach on the Trenton Habs Jr. Hockey Team (2010 IJHL Mid- Atlantic Champions)
2008-2009 – Head Women's Hockey Coach at Columbia University
1994-2000 – Ocean Hockey School, Brick, NJ
2010 – 2013 – Brule Hockey & Armageddon Ice Camps/ Clinics
2010-2011 – Head Coach U16 NJ Stars Hockey Club
2010-2012 – Assistant Coach NJ Raiders Hockey Club (2010 Undefeated League Champions)
2011 – USHL "Young Guns" Tournament Practice Coach
2009-2013 – Training Camp Hockey School in Laconia, NH.
2010 & 2011 – Selection to Coach the Garden State Game HS Showcase
2008-2009 Manasquan HS (NJ) Assistant Hockey Coach